filed under Donovan, Irish, Reviews
3
Written by
Donovan Nagel
| –

Seachtain na Gaeilge shona daoibh! 
Have you heard about Irish Language Week?
Every year, in the run-up to St. Patrick's Day, there's a week long festival that runs in Ireland and in various other pockets of the globe aimed at celebrating and raising awareness of the Irish language and culture.
In my home town of Brisbane it coincides with the Brisbane Irish Festival – a week full of activities (music, film, parades and so on) for the Irish community and those of Irish descent.
It's my favourite time of the year.
From the Seachtain na Gaeilge website:
The festival has built up incredible momentum in recent years, becoming the largest celebration of our native language and culture held in Ireland every year and sweeping other countries up in the whirlwind along the way. With events ranging from simple conversational evenings to street céilís; speed dating to wine tasting it gives everyone a chance to experiment with Irish whether fluent from youth or only dipping their toe in for the first time.
With a bit of luck I'll be back in Ireland for next year's Seachtain na Gaeilge events to practice my own Irish.
Bernard Dunne's Bród Club
RTE (the main Irish television network) is running a really good campaign at the moment called Bród Club (Pride Club), headed by retired champion boxer Bernard Dunne.
Dunne's late-in-life awakened interest in his native language is seriously inspiring and his advice for people is simple yet profound:
It's a campaign, my campaign, to get 100,000 people who use little or no Gaeilge now to use it again – to just use what you have. It's a big ask, I might fail, but I'm up for the fight.
Just use what you have.
I echo this advice for learners of all foreign languages.
Abair Leat – Des Bishop and Coláiste Lurgan's Irish Language Social Network
I want to make quick mention of this new online social network promoted by Des Bishop specifically for Irish language speakers and learners – Abair Leat.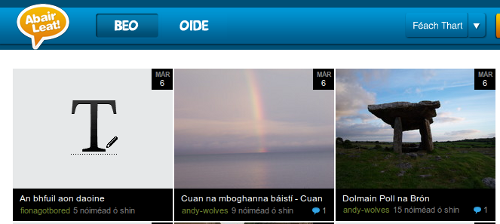 The Irish language school Coláiste Lurgan has put together a social platform (still in its alpha stage by the looks of it) that encourages the use of Irish through adding friends, posting content, commenting, etc. using the Contain social community framework.
What makes it cool is that it has a system that detects the percentage of Irish in everything you type, requiring a minimum of 70%, which means that if I try to type an English sentence it'll stop me and suggest a translation.
This feature is excellent because bilingual Irish speakers have a tendency to revert back into English and this makes it impossible for them to do that.
The site doesn't seem to have generated a huge amount of interest yet but hopefully it'll be bustling by the end of the year and a great new place to meet people who love the Irish language.
My Own Irish Language Progress
A couple of months ago I set St. Paddy's Day as an appropriate target date to learn the Irish language by.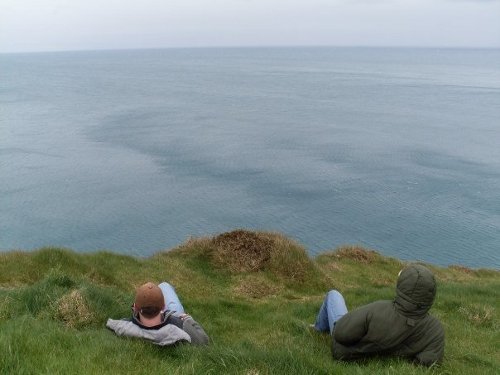 I'm entirely satisfied with my progress so far. Despite working a lot and all the usual distractions, I've been able to manage my time effectively, enjoy all the small steps and ensure lots of passive learning by daily exposure to the language.
This has however been the slowest progress I've ever made on any language I've studied up until now (by this stage with French for example I was conversing really well).
I kept my goal vague deliberately (I didn't want to make any claims about reaching certain levels fluency for this) for several reasons:
1. A lack of good resources.
There are far more resources for Irish than many other minority languages in the world, but I still struggled to get hold of good, free material online.
I had to rely on YouTube and a few beginner level podcasts to start off with and use abair.ie to help me with pronunciation (text-to-speech software).
I confess that I was forced to actually use a paid product despite saying I wasn't going to. Normally I wouldn't do this but in this case my success is important to me and the scant stuff I found online just wasn't going to cut it.
I've always found the Teach Yourself series to have very good quality dialogue so I got myself a copy and it has helped me tremendously. If you're working on your Irish and struggling to find good resources then I do recommend this. Look online for possible savings.
2. Lack of native speakers
This has been my biggest challenge.
Every language that I've learned in the past I've had native speakers either living locally to me, at work or available to chat with online but this time it's been a real pain in the arse.
Apart from one chance encounter last week with a native speaker from Northern Ireland and a teacher that I chat with once a week via Skype, I haven't been able to find enthusiastic speakers to practice with.
What makes this difficult for Irish specifically is that a lot of Irish people will list Gaeilge as a language that they're fluent in on language exchange sites but in actual fact for most of them they studied it in school and now don't speak it.
Finding people who actually use it in their daily lives isn't an easy task.
Hopefully with the advent of things like Abair Leat meeting native Irish speakers will be a lot easier in future.
Irish for me is a long term pursuit.
It's a beautiful language that is so deeply significant to me that I fully intend to stick with it and eventually (albeit slowly) reach a degree of mastery over the next couple of years.
If you're interested in languages or like me, have a passion for preserving and raising awareness of minority languages then consider Irish.
Do you have plans for Seachtain na Gaeilge or St. Paddy's Day? Comment below!
This was written by Donovan Nagel.
Do you use StumbleUpon, Reddit, Pinterest or Digg? A quick upvote, like, pin or digg will make my day! Thanks 
Comments: If you've got something you'd like to add to this or some constructive criticism you can do that at the bottom of this page. Just please be respectful. Any abusive or nonsensical comments will be deleted.
Enter your email in the 'Join the Guild' box above!