filed under Reflection, Reviews
64
Written by
Donovan Nagel
| –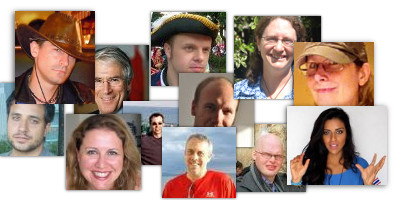 UPDATE: The original list here has been updated to remove bloggers who are no longer actively producing content and there also some new additions which you can help expand on.

ALSO: I highly recommend this online resource for languages and this one if you like learning languages through music.
***
I thought I'd put together a short list of who I consider to be the most profilic and authoritative bloggers on language learning at present.
This is definitely not an exhaustive list of every language blogger out there (there are loads of others I deliberately didn't include for one reason or another and probably a lot that I don't know about as well). I haven't included popular websites (e.g. HTLAL forum) that aren't blogs either.
When I started scouring the net for the best language learning blogs I found the lack of good quality, reputable blogs on this topic frustrating, not to mention how much I had to dig in order to find them. It's good to read up on other people's success and struggles in language learning, and to take what you can use from their various (and often conflicting) methods and approaches.
The people I've mentioned below may know several languages but all of them have languages of specialization or expertise to some extent. Many of them may blog about language learning in general but each of them have specialist knowledge of certain languages.
If you know of a blogger (either language-specific or general language learning) that should be mentioned here, add your input in the comments section below and I'll update this list!
Hyunwoo Sun (+ TTMIK team)
Blog name: Talk To Me In Korean

Languages: Korean (native), English.

Product: My Korean Store and HaruKorean (see my review of one of their books here)
By far my favourite language learning site and really needs no introduction. The TTMIK blog consistently produces outstanding, high quality content and is really unmatched by any other language-specific site that I know of.
Check out the post: TTMIK Audio Blog – Instant Food
Eoin Ó Conchúir

Blog: Bitesize Irish Gaelic blog
Languages: English (native), Irish.
Product: Bitesize Irish Gaelic (which I reviewed here)
I've always recommended Bitesize Irish Gaelic to new learners of Irish but I'd also like to mention here that Eoin runs a blog where you'll find some excellent posts about Ireland and the Irish language. The posts by Audrey Nickel in particular are very good.
Check out this post: Irish Gaelic: The Problem of Phonetics
Jared Romey

Blog: Speaking Latino
Languages: English (native), Spanish (various dialects).
Product: Several books and ebooks on Spanish dialects.
His site in his own words:
"My books and now this website are a consequence of my early bumblings in Spanish, repeated bouts with culture shock, and confusions over the correct words for popcorn, gasoline, pen, bus, underwear, traffic jam and drinking straw."
Jared guest posted here a while back. His blog in my opinion should be the first point of call for anyone undertaking Spanish, especially Latin American varieties.
Check out his post: Become Fluent Faster By Ignoring These 5 Spanish Fundamentals
Luca Lampariello

Blog: The Polyglot Dream
Languages: Italian (native), English, French, Spanish, German, Dutch, Swedish, Russian, Portuguese, Chinese, Japanese and Romanian.
Product: None.
His site in his own words:
"This blog is entirely dedicated to my biggest passion: languages."
Luca's a co-founder of the Polyglot Conference and is a prolific YouTuber. He's very clear about the fact that language learning takes a lot of time and that there are no shortcuts.
Check out his post: The 3 Stages of Language-Learning Evolution
Khatzumoto

Blog: All Japanese All The Time

Languages: English (native), Japanese.

Product: AJATT Store

His site in his own words:
"This site is about how you can learn Japanese without taking classes, by having fun and doing things you enjoy—watching movies, playing video games, reading comic books—you know: fun stuff! Stuff that you feel guilty about doing because you should be doing "serious things"."
Khatzumoto runs an enormously popular site on learning Japanese. His emphasis is on the importance of complete immersion in the language that you're learning – even if you're learning at home.
Check out his post: Why You Should Keep Listening Even If You Don't Understand

Simon Ager

Blog: Omniglot Blog
Languages: English (native), Mandarin, French, Welsh and Irish.
Product: None but runs an "Encyclopaedia of writing systems and languages". 
His site in his own words:
"This blog contains my musings on language, linguistics and related topics."
I almost didn't include Omniglot in this list for the simple fact that it's more of a blog for linguists, rather than language learners (yes there is a difference). You'll find a lot of linguist jargon on this blog that doesn't really interest a lot of people (as a linguist I personally get a kick out of it), but there are plenty of interesting and useful nuggets of information you can find there for general language learning. His mystery language recordings are a nice touch too.
Check out his post: Do It Because It's Fun
Richard Simcott

Blog: Speaking Fluently
Languages: English (native), French, Spanish, Welsh, German, Macedonian, Swedish, Italian, Serbian/Bosnian/Croatian, Portuguese, Czech, Catalan, Russian, Dutch, Romanian and Albanian.
Product: None.
His site in his own words:
"Speaking Fluently offers you the chance to read about language learning tips and stories."
Richard's the European Ambassador for Multilingualism and founder of the Polyglot Conference. He offers some very solid and useful language learning advice through his YouTube channel and Facebook page.
Check out his post: The Language Monkey
Maha Yakoub

YouTube Channel: Learn Arabic With Maha
Languages: Arabic (native), Italian, Hebrew, German, English.
Product: None.
Maha's a Palestinian living in Italy who runs a massively popular YouTube channel where she teaches Arabic (Levantine), Hebrew and Italian. Definitely aimed at low-level learners but I really enjoy her videos.
Check this video out: 5 Reasons That'll Make You Fall In Love With Arabic
Olle Linge

Blog: Hacking Chinese
Languages: Swedish (native), Mandarin Chinese, English, French.
Product: None.
His site in his own words:
"This website is dedicated to unveiling the mysteries of learning a language in general and about learning Chinese in particular."
As stated, Olle's site is primarily aimed at the Chinese language learner and should be the first stop for anyone keen on learning Mandarin. I keep myself up to date with his blog as a lot of what he shares is helpful for language learning in general, not just for Chinese.
Check out his post: Reading Manga For More Than Just Pleasure
Catherine Wentworth

Blog: A Woman Learning Thai… and some men too.

Languages: English (native), Thai.
Her site in her own words:
"WLT aims to post Thai language learning tips and techniques, local quirks and insights of Thailand. Anything Thai language, culture, or travel related."
Catherine's blog should be your first stop if you're interested in learning to speak Thai or about life in Thailand.
Check out her post: Onomatopoeic Words In The Thai Language

Corey Heller

Blog: Multilingual Living
Languages: English, German, Spanish and French.
Product: Multilingual Living Magazine
Her site in her own words:
"Multilingual Living is a place where parents raising children in more than one language and culture can find inspiration, tools, advice, wisdom and support!  It is about living multilingually, in each and every way possible."
Corey's blog differs greatly from the others listed here in that it's focused on families and raising kids who are multilingual. I consider her an expert on bilingualism and a wonderful person who is full of encouragement. I also guest posted on her blog here.
Check out her post: What Bilingualism is NOT
Susanna Zaraysky

Blog: Create Your World Book
Languages: English (native), Russian, French, Spanish, Italian, Portuguese and Serbo-Croatian.
Product: Language Is Music and Travel Happy
Her site in her own words:
"I am a multilingual world traveler whose goal is to help people have fun learning languages with music, TV, radio and other media and travel the world economically."
Susanna's made several television appearances and has her own unique approach to language learning using music. Her approach is particularly useful for anyone trying to improve their accent.
Check out her post: Why You Should Care About Endangered Languages
Mike Campbell

YouTube Channel: Glossika
Languages: English (native), Mandarin
Product: Glossika GSR Training (available in lots of languages – see my review here)
His site in his own words:
"Glossika delivers an efficient foreign language learning method to people who want to acquire a new language."
I have a lot of respect for Mike and he's probably the most interesting language/linguistics blogger that I've come across. In particular, I'm very impressed by the work he's done with the aboriginal languages of Taiwan and his Mass Sentence Method is based on solid research (it's very similar to the Lexical 'chunking' method that I adhere to).
Check out this video: Approaching Strangers and Using Language
Wiktor Kostrzewski

Blog: 16 Kinds
Languages: Polish (native), English. Unsure of the others.
Product: None.
His site in his own words:
"The tagline of the website is "Learn Languages Better." I'm on a mission to try and write about everything that helps people achieve this."
I don't know a whole lot about Wiktor to be honest, but the language learning advice he offers on his blog is high quality, no-BS stuff.
Check out his post: I Love That I Suck: Learning Languages Through Failing
Steve Kaufmann

Blog: The Linguist

Languages: English (native), French, Japanese, Mandarin, Spanish, Swedish, German, Italian , Cantonese, Russian, Portuguese and Czech.
Product: LingQ and The Way Of The Linguist
His site in his own words:
"For people who love languages or would, but were discouraged…"
The founder of LingQ and a prolific YouTuber. Steve's language repertoire impresses me along with the frequent YouTube videos he puts out on many important language learning issues. He's definitely one of the most level-headed, experienced people in the language learning blogosphere.
Check out his post: A Discussion With Stephen Krashen
…and of course:
Donovan Nagel

Blog: The Mezzofanti Guild
Languages: English (native), Egyptian Arabic, MSA, Korean, Russian, Irish, Georgian, Ancient Hebrew and Greek.
Product: None.
I know it's cheating but I had to include myself in this list!
In case you've just landed on this blog for the first time, I'm a linguist, translator and language instructor with a huge heart for minority languages and cultural immersion. I have a bit of a preference for languages of the East (both Near and Far Eastern) and I use my own proven method that I've developed based on the Lexical Approach to language learning.
Check out this post: The Uncomfortable Truth: Social Risk-Takers Are Better Language Learners
Who would you add to this list?
This was written by Donovan Nagel.
Did you find this interesting, useful or encouraging? A quick share on Facebook or Twitter will make my day! Thanks. 
Comments: If you've got something you'd like to add to this or some constructive criticism you can do that at the bottom of this page. Just please be respectful. Any abusive or nonsensical comments will be deleted.
Learning a language? Join The Guild! (it's free)