11
Written by
Donovan Nagel
on July 2, 2014 – 10:18 pm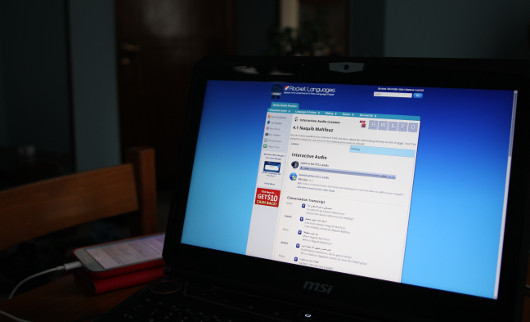 If you'd like to see all the languages that Rocket has available you can click here to sample them straight away (just click on the 'I want to learn…' and you'll get a drop down list).
Note: I occasionally use affiliate links in review posts like this one which help me to maintain and improve this site and the quality of the content I post.
I only ever positively review and recommend products that I personally own or genuinely find useful and being honest is very important to me. There are language blogs out there solely concerned with profiteering and this is not one of them.
***
If you've ever spent time searching online for language learning resources then there's a good chance you've already stumbled upon Rocket Languages at some point.
To describe it in its own words it's a 'recognized leader in online language learning' and it's been around for quite some time (about a decade according to its about page).
I recently had the chance to sample its Egyptian Arabic version and despite my initial hesitation and frankly low expectations, I have to say that I was actually pretty impressed by its quality which I'm going to explain below.
Although it does contain reading and writing lessons, its strength is definitely in speaking and listening, and the grammar is demonstrated rather than explained in great detail.
From the Arabic version:
"Using a scientific process called 'chunking', Rocket Arabic breaks down every day Arabic conversations into small segments so your mind can more easily absorb and remember them. The chunking method means that you'll be able to work on your conversational Arabic and overcome the fear of saying the wrong thing, in the privacy of your own home."
Rocket Languages currently has the following languages available: Spanish, Korean, Portuguese, Japanese, Arabic (Egyptian), Italian, Hindi, German, French, Chinese (Mandarin), Sign Language (American) and English (for Spanish speakers).
It sells at just under $100 for lifetime access (a bit steep but I'll explain below why I think this price is still justifiable).
Unrestrained, aggressive affiliate partners damage its reputation
I hope the folks over at Rocket read this.
I must admit that I was reluctant to even sample and review Rocket Languages at first because of frustrating experiences with its affiliates over the last few years.
Searching for language learning content via search engines inevitably leads you to fake, spammy review websites created by Rocket affiliate members (not Rocket Languages themselves) and I've had many instances of them polluting my blog with sales links which I immediately delete and ban.
I posted this on Twitter last year in fact:
Anyone leaving links to Rocket language products on my site are instantly banned. Constant spam from their affiliates. @rocketlanguages

— Donovan Nagel (@mezzofanti) October 29, 2013
It's due no doubt to the fact that Rocket Languages has a generous commission scheme in place and runs through a third-party affiliate payment system (making it harder to control who does what) and this makes it way too susceptible to aggressive marketing abuse by its members.
This is not necessarily the direct fault of Rocket Languages at all but they need to be aware that dodgy partners are very harmful to their brand and reputation.
Overall, I believe Rocket Languages is actually a good quality product which I'll explain below so I do hope they keep a closer eye on their partners.
Here I'll list what I believe are the negative aspects of Rocket Languages but do continue reading because I will end this review on a positive note.
The desktop interface looks very outdated
While I must say that I do like the simplicity of the Android app interface, the desktop interface is completely outdated and unattractive compared to its competitors (e.g. Duolingo).
It certainly doesn't detract from the high quality of the content of course but it would be a huge improvement to simplify the navigation menu and break up the large blocks of black text on dull grey.
One of Rocket Language's best features is its comprehensive audio content (see below) which makes it even more important for everything to be easy and comfortable to navigate.
Careless spelling errors
Flicking through the many lessons of Rocket Arabic, I immediately spotted several careless English spelling errors.

I didn't notice any problems with the Arabic content which was a relief but to have that many English mistakes means that somebody was probably in a hurry to launch the product.
Like the interface design, something as simple as an obvious spelling mistake can turn learners off what is otherwise a potentially great tool.
Games are utterly pointless
There are several small, web-based games included with Rocket Languages which as far as I'm concerned are a waste of time and should either be improved or removed.
Not only are they too easy but they lack any real educational value. Educational games should be both fun and challenging but the Word and Phrase Master games are neither.
This is especially true for the Arabic version since the spelling game uses transliterated (Romanized) Arabic words – what's the point in having a spelling game that uses the wrong alphabet?
Writing lessons have tonnes of potential but are poorly executed
The writing lessons have lots of potential but are not explanatory enough for new learners.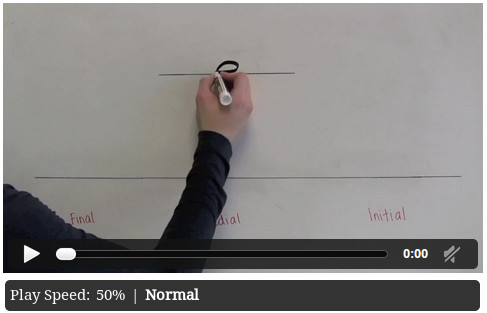 In many of the lessons the new words are given but you're not actually shown how to write them until the following lesson as a review.
This makes no sense to me at all.
The videos demonstrating how to write letters, numbers and words are actually quite good but there's not enough of them to justify calling them 'writing lessons'.
If you're going to create writing lessons (especially for a language like Arabic), you should either do it properly and comprehensively or leave it alone and focus on the speaking and listening component (which Rocket does very well).
Voice recording is a step behind competitors
From the Rocket Languages website:
"To get the most out of Rocket Record, we recommend that you try to match the timing of the audio as closely as possible. If the timing is out slightly you can drag your recording to the left or right to try and get a closer match. Then you can play both audio tracks at the same time by clicking on the blue play button on the right hand side of the recording area. This way it will be easier for you to tell if your accent and pronunciation is close to the native speakers or not."
Since competitors like Rosetta Stone and Duolingo use technology that automatically matches the sound waves of your voice with the native speaker's voice giving you a correct or incorrect response, Rocket would do well to implement a similar feature rather than expecting learners to do it themselves.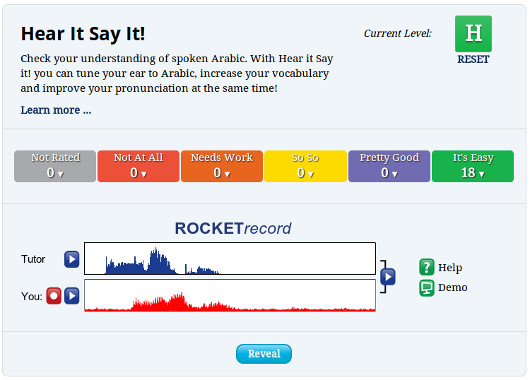 I must say however that I've never seen the value of this approach to pronunciation practise and Duolingo and Rosetta Stone are often terribly inaccurate anyway (occasionally I'll purposely say something completely wrong and receive a correct response from both of them).
Aiming to correct your pronunciation by having a piece of software tell you you're right or wrong is definitely not a natural way to improve your pronunciation. In the case of Rocket Languages, matching up an image of sound waves doesn't do much at all to improve your speaking skills.
It's not going to hurt using it of course but I don't see a whole lot of value in it personally.
***
Now that I've shared what I believe to be the negative aspects of Rocket Languages, let me explain why I still think it's still definitely a worthwhile investment.
The quality and comprehensiveness of Rocket Language's audio is excellent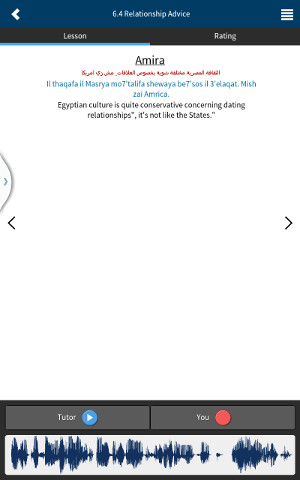 This is what makes Rocket Languages worth buying despite the negatives I've listed above.
I was genuinely impressed by the overall comprehensiveness and quality of the audio and dialogue content for the Egyptian Arabic version I sampled.
Firstly, the very fact that it teaches a spoken dialect rather than standard dialect puts it miles ahead of Rosetta Stone.
The content really does present the spoken language as it's naturally used which is hard to come by with Arabic language products.
It covers a wide range of topics beginning with the absolute basics and leading up to discussions that are actually quite advanced in level and unique for a course of its type (e.g. in addition to basic content like simple greetings, there are dialogues on relationships, sport, literature, and lots of other topics relevant to the country – all with accompanying audio by native speakers).
It consists of two sections:
Interactive Audio which is where you'll find lots of quality dialogue material and Language and Culture which is full of grammar and detailed cultural notes.
The dialogues and lessons are presented in a humorous and interesting way too and unlike Rocket's competitors they don't use a cookie cutter approach (in other words the content is unique to each language version).
The person who's presenting the content in English actually engages with and comments on the content which I think is fantastic.
For the audio content and its comprehensiveness I would say that the price is justifiable. On this point alone I'd recommend the product to anyone.
The mobile app (Android and iOS) is great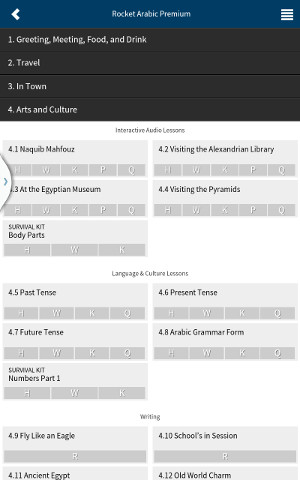 I mentioned the mobile app above which is available both on Android and iOS.
I much prefer it to the desktop interface since it's much more simplified and it only really lacks features such as the games which I believe are unnecessary anyway.
Rocket provides an active forum for discussion about the language and culture
Members have access to a learners forum for the specified language as well as a general forum for everyone.
This is a good feature to have since it allows people to ask for clarification and engage with one another.
Questions regarding various aspects of the grammar and expressions not found in the course content for example are asked and answered.
The forums appear to be actively moderated by native speakers although it is unclear how often they check in.
Scheduler and points system is a nice motivator to keep up with daily practise
While not innovative and a fairly common feature in other products, it's nice to see that Rocket has incorporated a scheduler and points system to keep people motivated.

The scheduler is there to encourage study streaks (much like Duolingo) and the points help you to move up a leader board and compete against other learners.
The Phrase Finder is an excellent search tool
This is a brilliant feature in fact.
Since the Rocket content is so comprehensive, it makes sense to have a good search tool to find exactly what you're looking for.
It seems to work well and as you can see in the picture below, the results come back with all sentences containing the word or expression in the search query.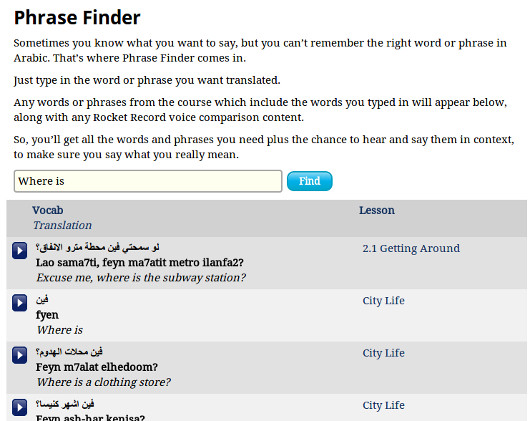 All audio and lessons are fully downloadable as MP3 and PDF files

You're not restricted to online access with the Rocket content.
This is actually a great selling point since every bit of content on the site is downloadable and able to be used offline. The MP3 audio is ideal for listening during commutes and the PDF's are easily printable.
Competitors like Duolingo and Rosetta Stone are limited to use in the application or online so it's nice that Rocket gives you complete access to the content you paid for.
Overall the downloadable, comprehensive audio content of Rocket Languages outweighs its negative aspects
… and justifies the somewhat steep cost.
While I can't comment on the specifics of all language versions, Rocket Languages is definitely a quality product I'd recommend because of the comprehensiveness of its content and quality of its dialogues.
The rest of the product (games, outdated interface and so on) definitely need some improvement but these are peripheral, secondary features of the audio which is Rocket's strong point.
If you're interested in trying it out (they do actually offer a free trial period on their products), you can do that here.
If you've used it before and have your own feedback you'd like to add (positive or negative), you can do that in the comment section below.
This was written by Donovan Nagel.
Did you find this interesting, useful or encouraging? A quick share on Facebook or Twitter will make my day! Thanks. 
Comments: If you've got something you'd like to add to this or some constructive criticism you can do that at the bottom of this page. Just please be respectful. Any abusive or nonsensical comments will be deleted.