filed under Donovan, ESL, Georgian
6
Written by
Donovan Nagel
| –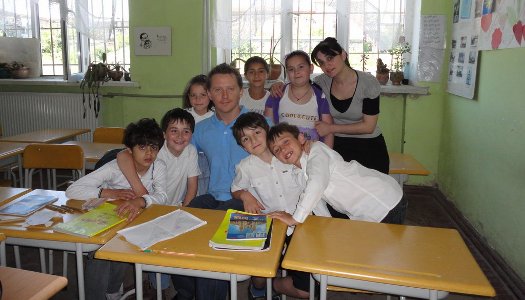 Are you looking for the ultimate language learning challenge that will set you apart from other language learners and give you an incredible, once-in-a-lifetime experience at the same time?
Have you ever heard of Georgia?
No, not the state. The country.
Teach and Learn in Georgia
At the start of this year I joined a program called Teach and Learn in Georgia (TLG), an initiative of the Georgian Department of Education and Science.
Its aims are:
to improve English language proficiency through recruiting English speakers for upcoming years who will be willing to help Georgian schoolchildren learn the English language in public schools across Georgia.
It's called a volunteer program but they actually pay you a considerably high local salary (more than enough to fund your social life and travels) while providing a host family to house and feed you.
You don't need to be a qualified teacher either. As long as you're not a complete dummy or an ex-criminal and your native language is English, they'll accept you onto the program.
They have monthly intakes for short and long term contracts so if you're not comfortable making a lengthy move to a country still recovering from war and poverty, you can do a 3 month stint to try it out.
Too much time with English speakers will waste the immersion experience
I say this to my own great shame – I didn't completely take advantage of this rare immersion opportunity to learn to speak Georgian fluently in the 4 months I was there.
I really regret it now.
My reason for heading over there in the first place was to get some work experience teaching English so I tended to focus on that as well as a lot of socializing with the other English-speaking volunteers on the program.
Although I lived with a host family that didn't speak a word of English, I didn't fully use this to my advantage and wasted a lot of time.
I did learn a lot of Georgian (ქართული) while I was there however by taking private lessons for a few months and chatting with new Georgian friends but I could have achieved a much higher level of fluency if I avoided English speakers more than I did.
Learn the Georgian language by applying for the TLG program
If you've got 3, 6 or 12 months to spare, head over to the TLG website and click Apply Now.
Did I mention it's all expenses paid courtesy of the Georgian government?
Take advantage of this rare opportunity to learn a language that few other people know or have even heard of.
For linguists looking for a challenging language to study I can assure you that Georgian is one of the most complex and challenging languages you'll find.
A few of us on the program were also using this excellent book to learn the Georgian language. It's definitely one of the best conversational resources for Georgian available and the ideal resource to start out with.
This was written by Donovan Nagel.
If you find this website useful, please take a few seconds to visit The Mezzofanti Guild on Facebook by clicking here and Like it.
Comments: If you've got something you'd like to add to this or some constructive criticism you can do that at the bottom of this page. Just please be respectful. Any abusive or nonsensical comments will be deleted.
Enter your email in the 'Join the Guild' box above!